BSPlayer Lite v0.9.111
Requirements: Android 2.1 and up
Overview: BSPlayer for Android is versatile multimedia player for Android platform.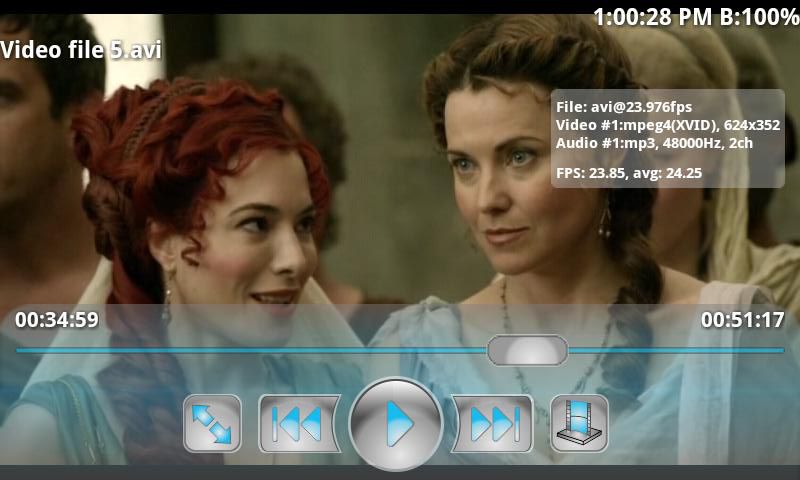 Main features:
Support for almost all media files (video and audio), such as: avi, divx, flv, mkv, mov, mp4, m4v, rmvb, wmv, 3gp, mp3... and streaming content such as http and rtsp.
Multiple audio streams and subtitles.
Playlist support and various playback modes.
External and embedded subtitles ssa/ass, srt, sub...
Automatic search for the right subtitles online
Playback files directly via Wi-Fi from your LAN shared drives/folders (such as external USB drives, SMB shares, PC shared folders...) - no need to convert file type and copy media files to SD card anymore!
Playback files directly from uncompressed RAR files and much more!
This package includes support for ARMv7 with VFP and NEON. For other CPU types please download appropriate package. Application will notify you which package you need.
BSPlayer lite version is ad-supported application. Pro version without advertisements will be available soon.
This software uses code of FFmpeg licensed under the LGPLv2.1 and its source can be downloaded from BSPlayer website.
NOTE: When reporting error please add info about your smartphone brand and model. Also you can send us more detailed bug report on e-mail android@bsplayer.com. We are trying to improve the player for the users and your feedback is appreciated.
Recent changes:
- subtitles are now also searched and loaded in LAN mode
- added option to choose if slide left/right will seek or go to prev/next playlist item
- added options to specify file types that will be automatically played in hardware mode
- if file cannot be played in hardware mode it will automatically switch to software
- added option to adjust brightness
- when generating thumbnails device won't go to sleep anymore
- on some devices hardware mode playback failed for some files, even if they were supported, fixed
- fixed movie sync problems on some devices
- improved playback smoothness, mostly problem on samsung devices
- added option to use external storage for cache folder
- can now also be installed on sd card
- added some optimization for Android 3.0+ (tablets)
- some other bug fixes and improvements
- reorganized application package, it's now smaller, support for other CPU can be downloaded separately if needed
Download Instructions:
http://www.ziddu.com/download/16024657/BSPlayer_lite_0.9.111.zip.html
Mirror(s):
http://www.wupload.com/file/92565000
http://www.easy-share.com/1917329672/BSPlayer_lite_0.9.111.apk